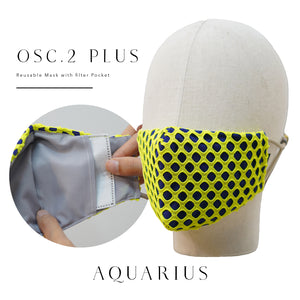 When Stars Align Studio
Aquarius Mask (Osc.2 Plus)
Sale price Price $27.00 Regular price Unit price / per
20 January - 18 February

Aquarius

Rebel

Things that doesn't seem to traditionally go together can be an unproven combination. Did you say there's nothing new that can be discovered? You're not looking and experimenting hard enough and putting the cart before the horse.

Fabric Shell: 100% Polyester, Luminescent Neon Green Netting Knit Fabric Lining & Filter slot: 100% Cotton

Filter specifications:
Bacteria Filtration Efficiency: 98.1%
Dimensions: 8cm x 12cm

Thickness: ★☆☆☆☆
Comfort: ★★★★☆

This product is 100% Hand Made in Singapore

This product is not a certified medical mask. The underside of the mask is, however, lined with nano tech fabric to enhance its water resistance property. Do not machine wash. It is recommended to remove the mask for a short duration after 4 hours.

Disclaimer:
These masks fulfil the suitability criteria which the Singapore COVID-19 Multi-Ministry Task Force updated on 18 May 2021.However, please be informed that these masks are not intended for medical application. We recommend changing the filter after every use. Each mask includes6 extra pieces of filters. Extra filters are sold separately.